Genicular Nerve Blocks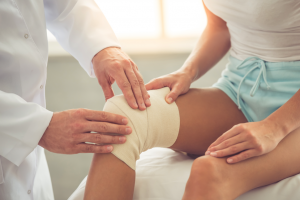 A diagnostic injection, Genicular Nerve Blocks determine whether pain and discomfort stems from inflammation within the knee joint. Diagnostic injections help doctors know whether or not treatment can help the knee. AOA Physicians perform Genicular Nerve Blocks twice to deem further treatment necessary. A doctor performs the test twice, 1 or 2 weeks apart.
Following the Genicular Nerve Block with a positive diagnoses, the doctor performs a radiofrequency ablation. A radiofrequency ablation allows for longer pain relief for the patient. Do not confuse with Epidural Steroid Injection or a Cervical Epidural Steroid Injection
Indications for Genicular Nerve Blocks:
Patients who want to avoid surgery
Patients unfit for knee replacement
Patients with failed knee replacement
Patients with chronic knee pain secondary to osteoarthrtis
How to prepare for a genicular nerve block
Some may find a Genicular Nerve Block very painful. For this reason, patients can opt for IV sedation and local anesthetic. This combination makes the procedure relatively pain free. If receiving IV sedation, the patient must have someone else drive them home from the hospital. The patient cannot eat or drink 6 hours before the appointment.
How A physician performs a genicular nerve block
The patient lays on the procedure table. The physical medicine & rehabilitation physician sterilizes the area using an anti bacterial solution. Once they have a sterilized field, the treating physician uses an xray guidance called fluoroscope to accurately place the needle over the genicular nerve. The syringe has local anesthetic in it which numbs the genicular nerve, therefore relieving the patients pain if it is coming from the knee.
If the genicular nerve block results in a positive diagnoses, the patient feels pain relief within the first hour. The pain relief should only last a few hours.
Potential risks and complications from a genicular nerve block
Like every procedure, a Genicular Nerve Block has potential risks and complications. Although a very low risk procedure, any time a needle penetrates the skin, the patient risks infection or excessive bleeding. Patients may also be allergic to the materials used and should notify their provider or any known allergies.
Common side effects include:
Leg muscle weakness or numbness
Dizziness
Mild headaches
Discomfort at the injection site
Non-common side effects include:
Bowel or bladder dysfunction
Fevers, chills, nausea, or vomiting
Severe or progressive pain at the injection site
Arm or leg weakness that worsens or lasts longer than 8 hours
Severe or progressive redness, swelling, or discharge from the injection site
If the patient experiences any of the previous listed side effects, they must report them to their physician immediately. If the patient cannot get ahold of their physician, the patient should call or drive to the nearest urgent care.
If you have persistent knee pain, call 817-375-5200 to schedule an appointment today!