Hyperextension Injury of the Elbow
WHAT IS A HYPEREXTENSION INJURY OF THE ELBOW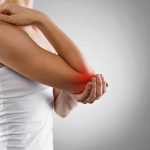 An elbow hyperextension injury occurs when the elbow is bent beyond the normal range of its motion, which can cause a bruise on either the humerus or the olecranon (the large, thick, curved bony eminence of the ulna, a long bone in the forearm that projects behind the elbow.)  Elbow hyperextension happens when the joint of your elbow is bent beyond its normal range of motion, which can be quite scary.
Most commonly, MRI is utilized to determine the extent of additional damage to the ligaments and bones of your elbow.  Elbow hyperextension can happen to anyone but is most common sports injury among players of contact sports, such as football, mixed martial arts, or boxing.  Additionally, the hyperextension injury of the elbow can cause damage to the surrounding soft tissue.
WHAT IS THE CAUSE A HYPEREXTENSION INJURY OF THE ELBOW?
This type of injury occurs frequently in contact sports such as football and others. The elbow pain is caused when the elbow is forced to bend the wrong way, or hyperextended, causing damage to the ligaments and structures of the elbow and possibly need reconstruction.
WHAT ARE THE SYMPTOMS OF A HYPEREXTENSION INJURY OF THE ELBOW?
Hyperextending your elbow can cause pain, swelling, a reduced range of motion or strength, stiffness, pain to the touch, or even muscle spasms.
Treatment for Hyperextension Injury of the Elbow
AOA Orthopedic Specialists offer hyperextension elbow treatment in Dallas, Fort Worth, Arlington, Irving, Midlothian, Joshua, Cleburne and Mansfield. If you are in need of elbow surgery in Dallas / Fort Worth email us or give us a call today at 817.3755200. Our orthopedics will be able to assist you.