FEMoral FRACTURE FIXATION WITH INTRAMEDULLARY ROD
A hip fracture may occur between the neck of the femur and a lower bony prominence called the lesser trochanter. In the instance of a hip fracture, a orthopedic surgeon must repair the fracture using an intermedullary rod system.
INTERTROCHANTERIC FEMORAL FRACTURE
Intertrochanteric fractures generally occur in the area between the lesser trochanter and the greater trochanter. The lesser and greater trochanter attach major muscles of the hip region. Individuals can palpate the greater trochanter at the lateral side of the hip.
Repairing an intertrochanteric fracture
The process of repairing an intertrochanteric fracture with an intramedullary nail may vary depending on the exact make and model of the device used. Some may consist of a single lag screw, like the Stryker Gamma3, while others may have integrated locking lag screws, like the Trigen Intertan by Smith&Nephew. The device used depends on the surgeons preference and/or whether or not the patient has a stable femoral fracture. The overall surgical procedure remains relatively standard no matter what device the surgeon uses. To start the surgery, an anesthesiologist places the patient under general anesthesia. Under general anesthesia the patient remains asleep throughout the entirety of the surgery. The surgeon places the patient in the supine position so that they have easy access and a clear view of the affected hip. After cleansing the area, the surgeon makes an incision over the hip, typically over the greater trochanter. Next the surgeon starts to repair the fracture and insert the implant. The hip surgeon reams a canal into the intramedullary cavity and inserts the intramedullary rod. The surgeon then inserts the lag screw or screws at the proximal end of the femur (end closest to the femoral head). Once the surgeon places the lag screws, the place the distal screw at the bottom end of the femur and through the rod to secure the rod.
Recovering from a hip fracture
Depending on the exact fracture pattern and the treating physician, some patients may put weight on the surgical leg immediately while others may have to wait 4-6 weeks. Many doctors prescribe a physical therapy protocol to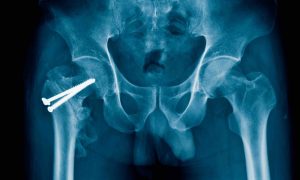 strengthen the muscles of the leg and surrounding the hip.
To view a list of all insurances that AOA Orthopedic Specialists accept, click HERE. To schedule an appointment online, click HERE.
EXPERIENCING HIP PAIN? CALL 817-375-5200 TO SCHEDULE AN APPOINTMENT WITH AN AOA ORTHOPEDIC SPECIALIST TODAY!