John Drkulec, M.D.
Originally from Windsor, Ontario, Dr. John Drkulec practices sports medicine, orthopedic surgery, and arthroscopy at AOA Mansfield and AOA Midlothian.  After receiving his Degree of Medicine in 1994, Dr.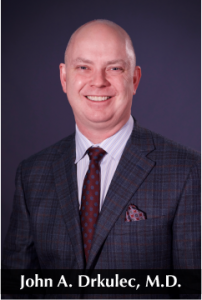 Drkulec finished his Orthopedic Surgical Residency in 1999 from the University of Ottawa.  After which, he completed his Fellowship in Sports Medicine and Arthroscopy at the University of Western Ontario.
An apt pupil and a pristine surgeon, Dr. Drkulec followed in his father's footsteps, becoming a physician.  As a devout family man, he celebrates his time with his three sons, loving wife and two dogs. In his limited spare time, you can find him working out at the gym and lounging on his back patio with his dogs.
When asked about his fondest memory, Dr. Drkulec found it easy, "marrying the love of my life at Sandals in Dunn's River."  When asked about a little known fact about him, Dr. Drkulec did not disappoint, "Most people don't know that I play Modern Warfare."
Education
Pre – Medical: 1988 – 1990. University of Windsor, Windsor, Ontario, Canada, Dept. of Biology
Medical: 1990 – 1994. University of Ottawa, Ottawa, Ontario, Canada, Degree of Medicine (May 1994)
Residency: 1994 – 1999. University of Ottawa, Ottawa, Ontario, Canada, Orthopedic Surgery Residency (June 1999).Program Director: Dr. Jay Jarvis
Fellowship: University of Western Ontario, Fowler / Kennedy Sports Medicine Clinic, London, Ontario, Canada. Fellowship in Sports Medicine & Arthroscopy. Program Director: Dr. Peter J. Fowler
Certifications
1992. United States Medical Licensing Examination, Part I
1994. United States Medical Licensing Examination, Part II
1994. Licensure of the Medical Council of Canada, Part I
1996. Licensure of the Medical Council of Canada, Part II
1999. United States Medical Licensing Examination, Part III
1999. Royal College of Physicians & Surgeons, Orthopedic Surgery
2000. Certificate of Sports Medicine, Canada (CASM)
2002. American Board of Orthopedic Surgeons, Part I
2005. American Board of Orthopedic Surgeons, Part II
Hospital & Administrative Affiliations
March 2002 – Present. Methodist Health System (Dallas). 1441 N. Beckley Avenue, Dallas, Texas 75203-1201. Active
July 2002 – Present. Duncanville Surgery Center. 1018 E. Wheatland Road, Duncanville, Texas 75116
February 2005 – Present. Medical Center of Arlington. 3301 Matlock Road, Arlington, Texas 76015. Active
October 2005 – Renaissance Hospital. 2929 South Hampton Road, Dallas, Texas 75224. Temporary
February 7, 2007 – Present. Surgery Center of Arlington. 2400 Matlock Road, Arlington, Texas 76015
February 2, 2010 – Baylor Orthopedic and Spine Hospital at Arlington. 707 Highlander Blvd., Arlington, TX 76015
Methodist Mansfield Medical Center. 2700 E Broad St, Mansfield, Texas 76063
Professional Societies
American Academy of Orthopaedic Surgeons
American Board of Orthopaedic Surgery
American Medical Association
Texas Medical Association
Texas Orthopedic Association