JEFFREY CARTER, D.O.
Originally from Eastern Nevada, Dr. Jeffrey Carter is board-certified in Orthopedic Surgery.  He graduated from Medical School at Kirksville College of Osteopathic Medicine in Kirksville, MO in 1980.  Dr. Carter completed his internship in St. Louis in 1981 and later his residency at Brentwood Hospital (Warrensville Heights, Ohio.)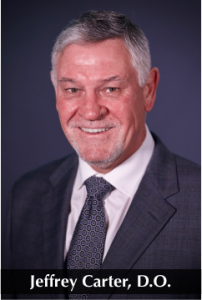 Dr. Carter served in the United States Armed Forces as a General Medicine Officer at Yuma Proving Ground in Arizona and Fort Benning, Georgia.  and as an Emergency Room Physician at Martin Army Community Hospital.  Dr. Carter currently treats various conditions ranging from fractures, dislocations, derangement, and sprains.  He has been practicing for over 20 years and offices exclusively at our Arlington location.
Outside of work, Dr. Carter maintains a healthy and active lifestyle by playing golf and running. He enjoys being an orthopedic surgeon and takes pride in the care he provides his patients, but he also takes pride in his family when he's home.
License
Texas State Medical Board
Ohio State Medical Board
Board Certified, Orthopedic Surgery 9/95
Recertified 2016
Education
College: University of Missouri, Rolla Missouri, 1971-1976 B.S. Metallurgical Engineering
Medical School: Kirksville College of Osteopathic Medicine, Kirksville, Missouri, 1976-1980 D.O.
Internship: Normandy Osteopathic Hospital, St. Louis, Missouri 1980-1981
Resident: Orthopedic Surgery, Brentwood Hospital, Warrensville Heights, Oh
Military
Yuma Proving Ground, Yuma, Arizona, General Medicine Officer, 2 Physician Clinic Occupational Health Physician 1981- 1982
Martin Army Community Hospital, Emergency Room Physician
Ft. Benning Georgia, General Medical Officer
Professional Societies
American Osteopathic Association
American Osteopathic Academy of Orthopedics
Texas Medical Association
Tarrant County Medical Association
Employment
Arlington Orthopedic Associates, P.A. 1996-Present
Private Practice: Grand Prairie & Arlington, Texas 1987-1996
Hospital Affiliations
Baylor Orthopedic and Spine Hospital of Arlington – Active
Medical Center of Arlington – Active
Mansfield Methodist Hospital – Active
Texas Health Resources of Arlington
Extracurricular Activities
KCOM: Atlas Club/v. Pres.1976-1980, Bachelor's Club 1977-1980, Student Campus Center Committee Chairman 1979
University of Missouri: Football / 4 year letterman 1971-1975, Track / 2 years 1971-1972, Golf / 1 year 1973, Theta Tau Professional Engineering society 1972-1976, Alpha Phi Omega 1971-1974, Blue Key National Honor Society 1973-1976, St. Patrick's Day Knight 1976
Papers Written
Natural History of Lymphosarcoma of Bone, A Case Report 1984
Percutaneous Medial Malleolar Fixation 1985
Infected, Exposed Metallic Internal Fixation; What to do? 1986
Antibiotic-Impregnated Bone Cement Bed; A Clinical Trial 1987