David Graybill, D.O.
One of the most pleasant people you will ever meet, Dr. David Graybill is a Board-Certified Anesthesiologist at AOA who has been practicing interventional pain management for over 30 years.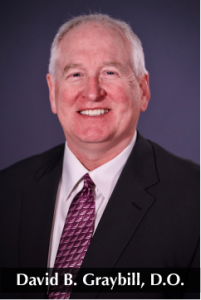 Dr. Graybill received his Osteopathic Degree from Des Moines University in 1980 and completed his Anesthesia Residency at Dallas/Fort Worth Medical Center in 1982. His practice focuses on non-operative treatment of spine disorders, including epidural steroid injections, facet injections and radio frequency ablations to the cervical, thoracic and lumbar spine.
Dr. Graybill is from Lamoni, Iowa. When he has free time outside of work, he enjoys Outdoor Sports and leisure activities such as relaxing on his back porch by the fire. When asked what his perfect day would be, Dr. Graybill replied, "In the middle of nowhere on an extreme hunt for dangerous game."
Personal Data
Married, 1978; Three grown children

Enjoy most outdoor sports and leisure activities
Current Employment
Employed by Arlington Orthopedic Associates, P.A. (multi-specialty orthopedic practice)
Previous Employment
Self-employed as an Interventional Pain Anesthesiologist
North Texas Pain Recovery Center- Medical Director for Interdisciplinary Programs

Work Hardening

Chronic Pain Management
HOSPITAL AFFILIATIONS
Baylor Scott and White Orthopedic and Spine Hospital at Arlington – Active Privileges

USMD Arlington – Active Privileges
LISCENSURE AND CERTIFICATION
Texas Medical Board, 1981

American Osteopathic Board of Anesthesiology, Certification of Anesthesiology, 1994

Diplomat of American Academy of Pain Management (2000)
Education
Undergraduate: Bachelor of Science- Biology & Chemistry, Graceland University-Lamoni (Iowa) 1973-1977, Magna Cum Laude
Graduate: Doctor of Osteopathy, Des Moines University (Des Moines, Iowa) 1977-1980
AOA Internship: Grand Prairie Community Hospital (Grand Prairie, Texas) 1980-1981
– Intern of the Year- 1980

Residency: Dallas Fort Worth Medical Center (Grand Prairie, Texas) 1981- 1983, AOA Anesthesia

–Resident of the Year-1982

Elmer L. Kelso, DO- Resident Trainer
Presentation & Publications
Presentations:
"History of Pharmacologic Agents in Anesthesia", San Antonio, Texas (1982), MOSA
"Axillary Approach to Brachial Plexus Block" (1982) AOCA
"Stadol Usage in Anesthesia", Dallas, Texas (1986)
"Anesthetic Considerations in Geriatric Outpatient Surgery", Chicago, Illinois (1996), AOCA
"IV Sedation for Non-Anesthesiologist", Dallas, Texas (2001), Dallas Southwest Medical Center
Publications:
"Propofol Usage in Anesthesia: Clinical Experience FA & Stuart Pharmaceuticals-Phase IV Study; Anesthesia and Analgesia", Volume 77, No. 45, October 1993
Professional Experience
Staff Anesthesiologist – DFW Medical Center (1983-2000), Grand Prairie, Texas
– Department of Anesthesia Chairman (1987-1990, 1993-1994, 1996-1998)
– Co-Chief of Staff (1991)
– Chief of Staff (1992)
– Past Chief of Staff (1993)
– Member, Board of Trustees – DFW Medical Center (1993, 1995), Fort Worth, Texas
Staff Anesthesiologist – Vencor Hospital (1993-1999), Fort Worth, Texas
Staff Anesthesiologist – Medical Village Surgical (1992-Present), Grand Prairie, Texas
Assistant Clinical Professor, Department of Pharmacy – UNTHSC (1994-1997), Fort Worth, Texas
Staff Anesthesiologist – Dallas Southwest Hospital (2000-2003), Dallas, Texas
Peer Review Chairman – Medical Staff
Medical Director – North Texas Pain Recovery (1997-Present)
Staff Anesthesiologist – Osteopathic Medical Center of Texas, Medical Staff (2000-2003)
Consultant
Pfizer Inc. Pharmaceutical Company: Lyrica Advisory Board (2013)
Professional Societies
American Osteopathic Association
American Academy of Pain Management (1998-Present)
Community of Christ Church Medical-Dental Association
Texas Osteopathic Medical Association (2003-Present)
Texas Pain Society (2010-Present)

Texas Medical Association (2015-Present)
LISCENSURE AND CERTIFICATION
Texas Medical Board, 1981

American Osteopathic Board of Anesthesiology, Certification of Anesthesiology, 1994

Diplomat of American Academy of Pain Management (2000)