Originally from Dallas, Texas; Dr. Michael Ramsey specializes in Orthopedic Spinal Surgery.  Dr. Ramsey graduated Medical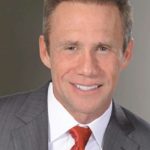 School at Baylor College of Medicine (Houston, TX) in 1994 and began his internship and Residency at Scott and White Memorial Hospital (Temple, TX.) He completed his Fellowship at South Texas Orthopaedic & Spinal Surgery Associates San Antonio.
Dr. Ramsey has over 20 years of experience in diverse orthopedic spinal surgery.  Dr. Ramsey clinics out of AOA Arlington, AOA Irving, AOA Mansfield, and AOA Dallas Location.
Dr. Ramsey maintains an active lifestyle through cycling and weight lifting.  His proudest moments were the birth of his three sons and his perfect day would be spent at the beach surfing.
PROFESSIONAL EXPERIENCE
AOA Orthopedic Specialists (Arlington, TX) 8/2015 – Current

West Texas Spine (Odessa, Texas) 2000-8/2015
HOSPITAL AFFILIATIONS
Baylor Scott & White Orthopedic and Spine Hospital at Arlington – Active Privileges

Texas Health Surgery Center at Cleburne – Active Privileges

Methodist Mansfield Medical Center – Active Privileges
Education
Undergraduate: Texas Christian University (Fort Worth, Texas) B.S., Cum 1988
Medical School: Baylor College of Medicine (Houston, Texas) D., 1994
Internship: Scott and White Memorial Hospital (Temple, Texas) Surgical Internship, 7/94-7/95
Residency: Scott and White Memorial Hospital (Temple, Texas) Orthopaedic Surgical Residency, 7/95-6/99
Chief Orthopaedic Surgery Resident, 7/98-6/99
Rounds to include:

Scott and White Memorial Hospital (Temple, Texas)
Veterans Administration Medical Center (Temple, Texas)
Ben Taub Trauma Hospital (Houston, Texas)
Harris County Hospital District (Houston, Texas)
Shriner's Hospital for Children (Houston, Texas)

Fellowship: South Texas Orthopaedic &Spinal Surgery Associates (San Antonio, Texas) Orthopaedic Surgery of the Spine, 1999-2000
CERTIFICATION & LICENSURE
Texas State Board of Medical Examiners – License; 1995 American
Board of Orthopaedic Surgery – Board Certified: 2002 New Mexico

Medical Board – License; 2007
PROFESSIONAL ORGANIZATIONS
Ector County Medical Society
Midland County Medical Society
Texas Medical Association
American Medical Association
American Academy of Orthopaedic Surgeons
North American Spine Society
Papers & Paper Presentations
"The Functional Assessment of Acetabular Fracture Reconstruction by Gait Analysis", Michael Ramsey M.D., Orthopaedic Trauma Association National Meeting, New Orleans, Louisiana, October
"CPT Coding for Residents", Michael Ramsey M.D., Wyeth-Arrest, Resident Report of the Orthopaedic Academy National Meeting, Anaheim, California, March
"Total Knee Arthroplasty: A Review", Michael Ramsey, D., Resident Reporter American Academy of Orthopedic Surgeons 66th Annual Meeting.
"Nonoperative Treatment of Minimally Displaced Acetabular Fractures", Michael Ramsey, M.D., Robert Probe, M.D. (publication pending in Journal of Trauma)
"Disc Height Evaluation and Clinical Results of Posterior Lumbar Interbody Fusion Using Brantigan Carbon Cages: An Independent Review", Michael Ramsey M.D., Lynn Stromberg, M.D., Arvo Neidre, M.D., John Toohey, M.D., David Roberts, D., Brad Hall, M.D., poster at Spine, Science and Management

Symposium, New Orleans, Louisiana, November 1999, Southern Orthopedic Association 2000, Scoliosis Research Society International Meeting 2000, Texas Orthopedic Association 2000.(submitted: Spine – journal).

"Complications and Surgical Considerations in PLIF Cases with Carbon Fiber Interbody Cages & Steffee Pedicle Screws and Plates", Michael Ramsey M.D. and Lynn Stromberg M.D., Cleveland, Ohio, November
"Recurrent Disc Herniation", Michael Ramsey, M.D., Lynn Stromberg, M.D., Arvo Neidre, M.D., John Toohey, M.D., David Roberts, M.D., Brad Hall, M.D., (submitted: North American Spine Society meeting, Texas Orthopedic Association meeting, Orthopedics – journal).
"Hallifax Clamps and Treatment of Anterior Cervical Pseudoarthrosis", Michael Ramsey, M.D., Lynn Stromberg, M.D., Arvo Neidre, M.D., John Toohey, M.D., David Roberts, M.D., Brad Hall, M.D., (submitted: North American Spine Society meeting, Texas Orthopedic Association meeting, Orthopedics – journal).
"Complication and Operative Results of The Brantigan Cage", Michael Ramsey, M.D., Lynn Stromberg,M.D., Arvo Neidre, M.D., John Toohey, M.D., David Roberts, M.D., Brad Hall, M.D., (submitted: North American Spine Society meeting, Texas Orthopedic Association meeting, Orthopedics – journal)
"Interobserver Variability in Three Grading Classification of Perthes' Disease", Michael Ramsey, M.D., Richard Haynes, M.D. Paper presentation American Academy of Orthopedic Surgery national meeting, San Francisco, California, 2001. (pending publication in Journal of Pediatric Orthopaedics.)
"Coccygodynia: Treatment", Michael Ramsey, M.D., Lynn Stromberg, M.D. Arvo Neidre, M.D., John Toohey, M.D., David Roberts, M.D., Orthopedics – Volume 26, Number 4; April 2003
"Degenerative Lumbar Spine", Michael Ramsey, M.D., lecture – American College of Spine Surgery. 8th Annual Meeting and Spine Surgery Review Course, Colorado Springs, CO, May 3-7,
"Three and Four Level Anterior Cervical Discectomy: Results", Scientific Paper Presentation – American College of Spine Surgery. 8th Annual Meeting and Spine Surgery Review Course, Colorado Springs, CO, May 3-7,
"Grade II, III and IV Spondylolisthesis With Open Reduction and Posterior Lumbar Interbody Fusion", Scientific Paper Presentation – American College of Spine Surgery. 8th Annual Meeting and Spine Surgery Review Course, Colorado Springs, CO, May 3-7,
"Results from Grade II, III and IV Spondylolisthesis With Open Reduction and Posterior Lumbar Interbody Fusion", Scientific Poster Presentation – North American Spine Society. 21st Annual Meeting, Seattle, WA, Sept. 25-29, 2006.
"Isthmic Spondylolisthesis (IS)", Scientific Paper Presentation – American College of Spine Surgery. 9th Annual Meeting and Spine Surgery Review Course, Nashville, TN, May 2-6,