Anthony Brentlinger, M.D.
As a native of Arlington, TX, Dr. Anthony Brentlinger hasn't steered far.  Much to the chagrin of his adolescent self, Dr. Brentlinger pursued his childhood ambition of a career in Orthopedic Surgery, where he specializes as a hand, wrist, and elbow physician. Dr. Brentlinger completed his Residency in Orthopedic Surgery in 1986 at the University of Oklahoma and his Fellowship in Hand Surgery at The Campbell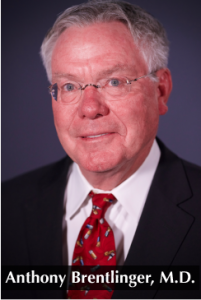 Clinic in Memphis, Tennessee.
From 1970 to 1973, Dr. Brentlinger served in the United States Navy serving two tours to Vietnam. In 1983, he pursued the Annual Visting Professorship at the Department of Orthopedic Surgery Rehabilitation in OK as "Functional Assessment Following Bilateral Wrist Fusion."
Outside of his work, Dr. Brentlinger follows a daily fitness routine of running 6 miles and weight training 2 times a week.  As a proud family man, Dr. Brentlinger recalls his fondest memory, "Making medical rounds with my father as a child."
Education & Training
Pre – Medical:
1966 – 1969: Arlington High School Park Row Drive Arlington, Texas
Graduated1973 – 1977: Texas A&M University College Station, Texas with a Degree B.S. Biology
Medical:
1977 – May 31, 1981: University of Texas Health Science Center, San Antonio, Texas
Internship:
July 1, 1981 – June 30, 1982: Rotating Surgical at the University of Oklahoma Health Science Center, Oklahoma City, Oklahoma
Residency:
July 1, 1981 – June 30, 1986: Orthopaedic Surgery at the University of Oklahoma Health Science Center, Oklahoma City, Oklahoma
Other Training:
July 1, 1986 – June 30, 1987: Fellowship in Hand Surgery at The Campbell Clinic in Memphis, Tennessee.
Lee W. Milford, M.D. Director 1984
Northwestern University
Orthotic and Prosthetic
Training Program
Chicago, Illinois1986
AO / ASIF Basic Course1987
AAOS Upper Extremity Trauma Course
New Orleans, Louisiana
Military Service
1970 – 1973
United States Navy: Active Duty and served in two tours in Vietnam
Honorable Discharge – January 26, 1973
1986
Annual Visiting Professorship
Dept. of Orthopaedic Surgery Rehabilitation at Oklahoma City, Oklahoma
"Functional Assessment Following Bilateral Wrist Fusion"
Employment History
September 1996 – Present
Arlington Orthopedic Associates, P.A.
800 Orthopedic Way
Arlington, Texas 76015
July 1987 – August 1996
Anthony Brentlinger, M.D., P.A.
Matlock Road
Arlington, Texas 76015
Current Hospital & Administrative Appointments
June 17, 1987 – Present
Arlington Memorial Hospital
800 W. Randol Mill Road
Arlington, Texas 76012
Active Status
February 2000 – Present
The Surgery Center of Arlington
2400 Matlock
Arlington, Texas 76015
February 15, 2005 – Present
USMD Hospital at Arlington
801 West Interstate 20
Arlington, Texas 76017
Associate Status
February 18, 2010 – Present
Baylor Orthopedic & Spine Hospital
707 Highlander Blvd.
Arlington, Texas 76015
Active Privileges
Previous Hospital & Administrative Appointments
May 25, 1987 – December 2011
The Medical Center of Arlington
3301 Matlock
Arlington, Texas 76015
Courtesy Status
June 16, 1992 – July 16, 1997
HealthSouth Rehabilitation Hospital of Arlington
3200 Matlock Road
Arlington, Texas 76015
Consulting
March 8, 2007 – January 16, 2008
John Peter Smith Hospital
1500 South Main Street
Fort Worth, Texas 76104
Courtesy
October 24, 2006 – March 24, 2009
Methodist Mansfield Medical Center
2700 East Broad Street
Mansfield, Texas 76063
Active
Specialty Certification
American Board of Orthopedic Surgery (ABOS)
January 1989
Licensure
Texas – F9236 (August 23, 1981)
Oklahoma – 13736 (July 1, 1982 – June 30, 1986)
Memberships in Professional & Scientific Societies
American Medical Association
Texas Medical Association
Tarrant County Medical Association
Texas Orthopaedic Association
American Board of Orthopaedic Surgery
The Millford hand Club
The Willis C. Campbell Club
American Association for Surgery of the Hand
Honors & Awards
1967 – 1969
National Honor Society
Arlington High School
1973 – 1977
Dean's List
Texas A&M University
1976
Phi Kappa Phi Honor Society
Texas A&M University
1977
Graduate Summa Cum Laude
Texas A&M University
1977
Teaching Assistant
Microbiology
University of Texas Health Science Center
Presentations
1986
Annual Visiting Professorship
Department of Orthopedic Surgery and Rehabilitation
"Functional Assessment Following Bilateral Wrist Fusion"
Oklahoma City, Oklahoma
1985
American Academy of Orthopedic Surgeons
Scientific Exhibit: "Peripheral Nerve Changes Following Epineurial Injections of Saline and Blood in Rat Sciatic Nerve"
Las Vegas, Nevada
1985
Annual Visiting Professorship
Department of Orthopedic Surgery and Rehabilitation
"Peripheral Nerve Changes Following Subepineural Hematoma Formation in Rat Sciatic Nerve"
Oklahoma City, Oklahoma
1984
American Academy of Pediatrics
"Infections of the Foot Following Puncture Wounds in Children"
Chicago, Illinois
1984
Oklahoma State Orthopedic
Annual Meeting – Presentation
Scientific PaperAnnual Visiting Professorship
Department of Orthopedic Surgery and Rehabilitation
"Infections of the Foot Following Puncture Wounds in Children"
Oklahoma City, Oklahoma
Publications
"Infections of the Foot Secondary to Puncture Wounds in Children"
Orthopaedic Transactions, JBJS
Volume 9, No 1, Spring 1985
"Perforation of the External Iliac Artery and Ureter Presenting as Hemorrhagic Cystitis Following Total Hip Arthroplasty"
JBJS, 69-A: 620-622, 1987
"Functional Assessment of Bilateral Wrist Arthrodesis"
The Journal of Hand Surgery
12 – A: 1020 – 1024, 1987
"Changes in the Rat Sciatic Nerve Following Subepineurial Injection of Blood"
Clinical Orthopaedics and Related Research, 1988
Research Interests
Peripheral Nerve Injuries
Hobbies
Fishing
Hunting
Water Sports